The Value of Honors College Relationships: Ramadan During the Final Weeks of the Semester
By Rana Ansari
Halfway through the month of Ramadan 1443, 2 honors college students, next-door neighbors, leave their dorms to meet in the 4th floor common area, for Maghrib, sundown. Each person holds a box of dates and hot chai. Before leaving my dorm, I turn on the lights of my cheap Party City Ramadan decorations, which usually bring a smile to my face every time that I do.
I bring out my prayer mat, and so does Shaheer Alam, Honors College student, friend, and fellow Muslim. With a glance at the clock and a nod of approval, we think to ourselves Bismillah, in the name of God, the merciful and compassionate, before taking our first bite of food since Suhoor, daybreak, earlier that morning. We take a nice swig of water and head to the 4th-floor classroom, our makeshift Masjid, to perform our evening prayer before our meal for the night.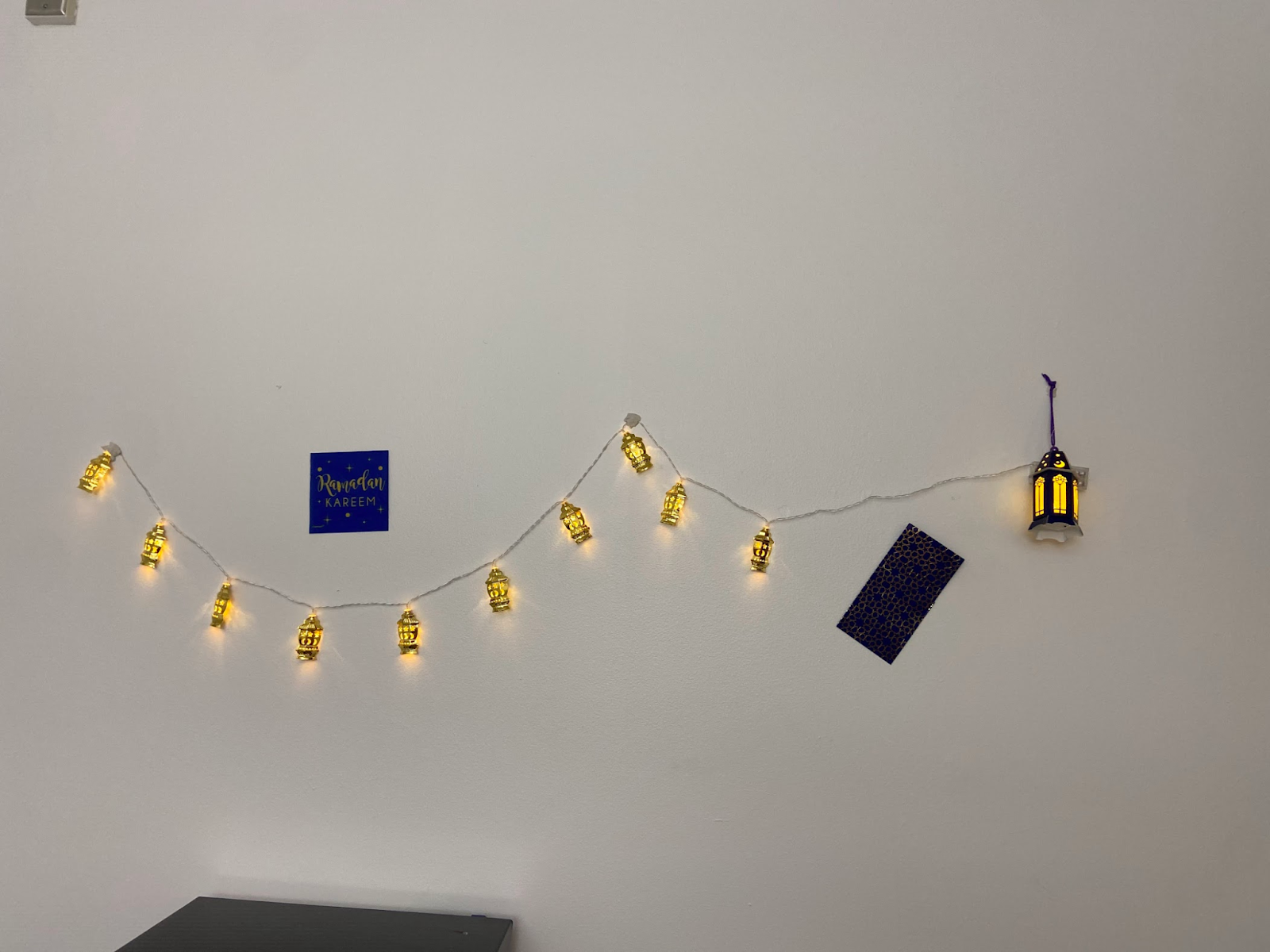 Ramadan, the ninth month of the Islamic calendar, which is based on the lunar calendar, is the 30-day period where Muslims around the world fast for 30 days from sunrise to sunset. In addition to refraining from food and water, Muslims work to find themselves by working on patience, inner strength, and overall wellness, both mentally and physically through prayer and deep reflection. This year, Ramadan lasts from the beginning of April to the beginning of May, which leads to the important Muslim holiday, Eid. This celebration usually includes a feast with family and friends, gift-giving, practicing gratefulness and appreciation for what we have, and most importantly, giving to those in need.
As a first-year student, this was my first Ramadan away from my home. This meant not only being responsible for my meal planning but also looking for others to practice the month with me. Growing up Muslim, and choosing Islam as my faith, I prioritize the making of connections with other Muslims, as well as my connection with God and my faith. Even more, I find beauty and meaning in making close relationships with those who have beliefs both close and far from my own. From the Quran, Surat Al-Hujuart, is the "Verse of Brotherhood" which transliterates to "The believers are nothing else than brothers. Therefore, make peace between your brethren and observe your duty to Allah that haply ye may obtain mercy."
Interpretation of the Quran is a difficult and important task for Muslims and Nonmuslims alike. However, I have always felt that this verse spoke loud and clear to me, reminding me of the importance of equality between us and our peers and that friendships are a valuable part of our lives. In my household, praying with others, side-by-side, was always encouraged, as was praying with those of different faiths. I used to attend Mass with my Catholic friend in elementary school and visited Synagogues to pay respect. I read about the Hindu faith, and discovered the tenants of the Bahai religion. These habits come from the practices of my family, watching my grandfather donate to the local North Carolinian church close to his house weekly whenever I would visit. Even before, I see pictures of my mother in Baghdad celebrating Easter and Passover with her Christian and Jewish neighbors and hear stories of my grandmother making Klecha, the Iraqi cookie filled with date paste, for Christmas with her neighbors.
Imam Ali, an important figure within Islam, once said, "A brother is like gold and a friend is like a diamond. If gold cracks you can melt it and make it just like it was before. If a diamond cracks, it can never be like it was before." The Honors College has allowed many students to form these "golden" relationships, regardless of faith, nationality, or identity, As the semester comes to a close and move-out day for freshman come closer, it is important to reflect on the relationships that the Honors College has formed and nurtured. In many ways, it allowed me to grow closer to my faith, and closer to finding myself.
Ramadan Kareem and Eid Mubarak to Everyone!
---
Photos courtesy of Rana Ansari